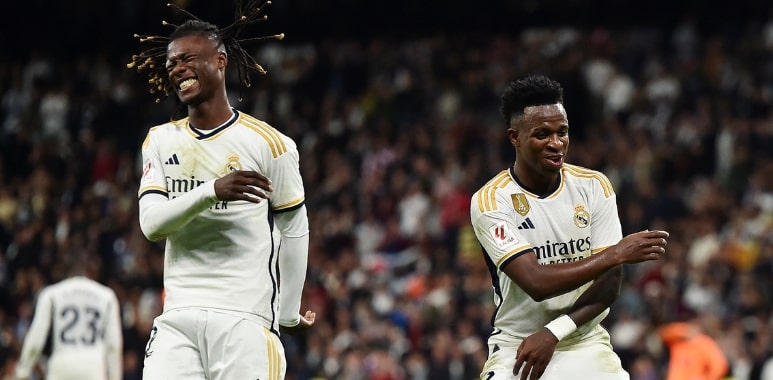 Brazilian Magic at Bernabeu Vinicius and Rodrygo Contribute to Valencia's Demise
Vinicius Junior and Rodrygo Goes showcased their prowess, each scoring twice, as Real Madrid convincingly defeated Valencia 5-1 on Saturday, maintaining close pursuit of surprising La Liga leaders Girona.
The scoring began with Dani Carvajal's early strike for Los Blancos before the dynamic Brazilian duo assumed control, propelling Madrid to a victory that positioned them just two points behind Girona, who secured a win at Rayo Vallecano.
Jude Bellingham, a key player for Madrid, was absent due to a shoulder injury sustained last weekend, leaving a void in the attacking lineup. Vinicius, returning to face Valencia since being subjected to racial abuse in their stadium in May, exhibited dominance over the opposing defense.
Rodrygo played a pivotal role, contributing assists for Vinicius's goals and adding two of his own, marking a remarkable turnaround for the duo who had struggled with form until this week.
Rodrygo expressed their improved state, stating on Real Madrid TV, "Now we are in our best moment (of the season). We are back to being the Rodry and Vini that the fans want to see… if they are happy, then I am happy too."
Carvajal swiftly dispelled doubts about Madrid's attacking prowess with a spectacular left-foot strike in the third minute. Despite Bellingham's absence, Madrid dominated, with chances from Alaba and Kroos hitting the crossbar.
Goalkeeper Andriy Lunin, stepping in for the sidelined Kepa Arrizabalaga and Thibaut Courtois, showcased his skills, denying Valencia's Hugo Duro with crucial saves.
Vinicius's first goal, a chested finish from Rodrygo's low cross, extended Madrid's lead. His night improved further with a long-range strike early in the second half, beating Valencia's goalkeeper at the near post.
Valencia's defensive errors allowed Rodrygo to capitalize, scoring Madrid's fourth. The Brazilian duo's performance aligned with Carlo Ancelotti's belief that they would outscore Bellingham by the season's end.
Madrid's fifth goal came from Rodrygo's adept finish, while Duro managed to pull one back for Valencia, minimizing the scoreline disparity. Despite the defeat, Valencia's Fran Perez expressed discontent, stating, "We leave here fuming. In my opinion, it's too big of a scoreline considering how the game was."