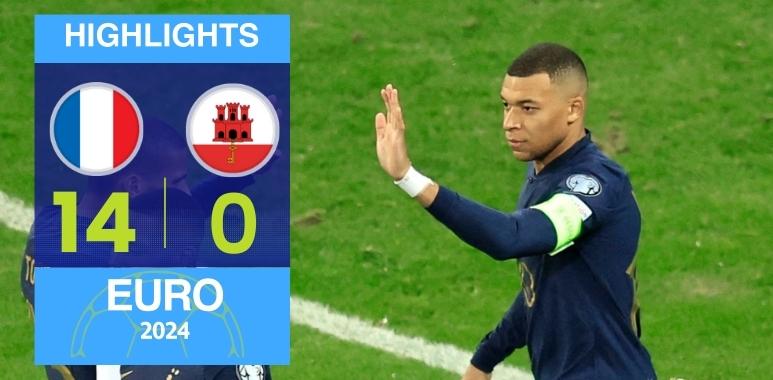 All Goals & Highlights: France 14-0 Gibraltar
Kylian Mbappe netted three goals as France achieved a record-breaking 14-0 victory over 10-man Gibraltar, setting a new margin of victory in European qualifying and a national record in Nice.
The Netherlands, Switzerland, and Romania secured their spots in Euro 2024.
France took an early lead with an own goal by Ethan Santos, Marcus Thuram, and Warren Zaire-Emery's debut goal.
Gibraltar's red card allowed France to dominate, with Mbappe's penalty making it 4-0. Clauss, Coman, and Fofana added goals before halftime.
Rabiot, Coman, and Dembele scored, and Mbappe completed his hat-trick. Giroud came off the bench for the final two goals.
The Dutch joined France with a 1-0 win over the Republic of Ireland, while Romania qualified by defeating Israel 2-1, securing their second major tournament since 2008.
Switzerland qualified despite a 1-1 draw with Kosovo. Wales' 1-1 draw with Armenia jeopardized their Euro 2024 chances, requiring a win against Turkey and Croatia to falter against Armenia in the upcoming matches.